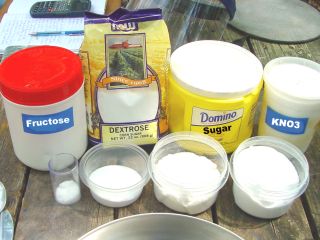 If you can't get corn syrup, or would like to have better control of the sugar content, is to use a mixture of sucrose, dextrose, and fructose. This provides a pretty good approximation of corn syrup, creating a propellant with very nice texture.

The proportions are: KNO3 - 64%, Sucrose - 28%, Dextrose (monohydrate) 6%, Fructose - 2%

This batch is a bit larger, starting with 500g KNO3, 220g sucrose, 50g dextrose, and 7.5g fructose. This batch should make enough propellant to fully load a 4-grain 54mm motor casing.