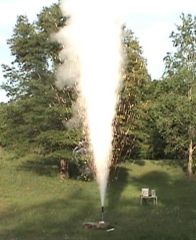 Brand new motor, somewhat larger than the one used in the flight of 4-8-06. I always like to static test a new motor a time or two before committing it to a flight test.



Loki 2000 casing

, 54mm 5-grain. First test. Burning propellant made with SVRC KNO3, Pixy Stix, Karo Syrup and vinegar. 4 BATES grains and full-sized smoke grain. But smoke grain burned simultaneously with propellant, yielding high thrust but no after-smoke.

Propellant weight: 859g


Kn ratios:

Initial 273, Max, 326 Final, 301


Peak Thrust

: 368 Lbs-Force


Average Thrust:

264 Lbs-force
Total thrust: 1105Ns
Burn time: 0.93 second,
Delivered ISP: 131

High thrust is at penalty of extreme pressure (around 1800 psi) and short burn time. Case liner is split from one end to the other. No apparent damage to motor casing.
Thrust Curve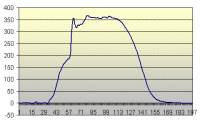 Click Here for a full analysis of this test.